Chalfont, PA Veterinarians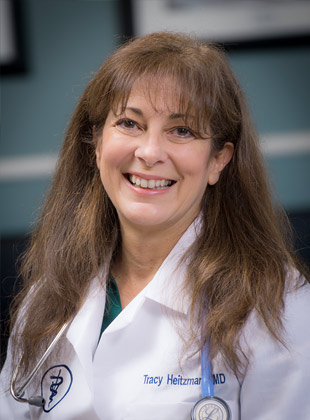 Tracy A. Heitzman, VMD
Veterinarian and Practice Owner Dr. Tracy Heitzman hails from Ewing, New Jersey. From an early age, Dr. Heitzman knew that she wanted to care for animals. During high school, Dr. Heitzman worked at a local animal hospital where the veterinarians provided her with her first lessons in veterinary medicine.
After high school, Dr. Heitzman attended Mercer County Community College where she earned an Associate degree in Applied Science in Medical Technology in 1988. She went on to The College of New Jersey, earning her Bachelor of Science in Biology in 1990. While at The College of New Jersey, Dr. Heitzman won the dean's award, an award from the National Honor Society, and was recognized as the Medical Technologist of the Year.
Dr. Heitzman attended University of Pennsylvania School of Veterinary Medicine, where she earned her Veterinariae Medicinae Doctoris in 1999. While at veterinary school, she earned the American Animal Hospital Small Animal Medicine and Surgery Award. Dr. Heitzman opened County Line Veterinary Hospital in 2006 and after 10 years of providing outstanding veterinary care in Hatboro, Dr. Heitzman opened Central Veterinary Center in 2016.
"The most satisfying part of being a veterinarian is being able to send an animal home to their family when it seemed initially like a poor prognosis," Dr. Heitzman says. "It's also deeply satisfying when I develop relationships with pets and their families."
Dr. Heitzman is a member of the American Veterinary Medical Association, the Pennsylvania Veterinary Medical Association, The New Jersey Veterinary Medical Association and the Metropolitan Veterinary Medical Association. She is professionally interested in internal medicine and surgery.
At home, Dr. Heitzman has a 9-year-old Jack Russel terrier/Chihuahua mix named Roxy, a 6-year-old long hair Chihuahua named Zoe, a 3-year-old long hair Chihuahua named Rupert, an 11-year-old domestic shorthair cat named Spike and an 8-year-old domestic shorthair cat named Chuckie who lives at County Line Veterinary Hospital. She shares her home with her husband, James, who is a New Jersey State Trooper. Dr. Heitzman admits to being a diehard Cowboys fan, and in her free time she enjoys watching movies and home decorating.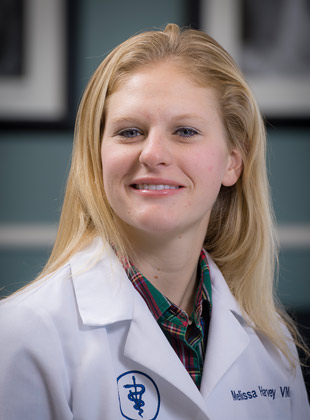 Melissa A. Harvey, VMD
Ever since she can remember, Dr. Melissa A. Harvey has wanted to be a veterinarian. During her childhood in Hackettstown, N.J., Dr. Harvey satisfied her love of animals by spending time with her family's pets and visiting zoos and aquariums. She earned her bachelor's degree in biology from Georgetown University and was awarded her Veterinariae Medicinae Doctoris from the University of Pennsylvania School of Veterinary Medicine. Melissa earned dean's list recognition throughout veterinary school.
Dr. Harvey is a member of the Phi Zeta Veterinary Honor Society and the American Veterinary Medical Association. Her professional interests include internal medicine and surgery.
At home, Dr. Harvey cares for Buddy, a mixed-breed rescue. In her spare time, she enjoys rollerblading, swimming, kayaking, tennis and traveling. Dr. Harvey also volunteers at Animal Care & Control Team and the Animal Adoption Center.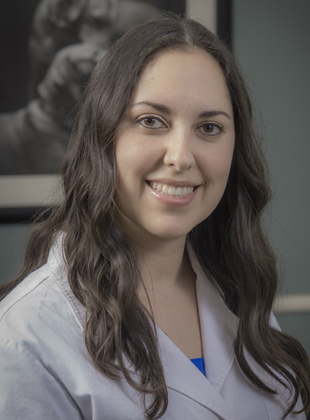 Kimya Davani, VMD
Associate Veterinarian Kimya Davani began working with us here at Central Veterinary Center in August of 2017. Growing up in Gaithersburg, Maryland, Dr. Davani developed an interest in caring for animals early on. One of her earliest motivations in becoming a veterinarian was sparked by watching her aunt rescue stray cats and seeing them nursed back to health. This had a profound impact on her desire to treat animals for herself, and helped propel her towards the profession she holds today.
Forming relationships with clients and their pets is one of the most important aspects of being a veterinarian to Dr. Davani. She finds it important to develop memorable relationships with our clients, and relates by sharing stories about the pets that come in with their owners.
In high school, Dr. Davani began her career working as a Kennel Technician at a boarding resort. She then moved on to volunteer at a veterinary hospital in high school and college, ultimately encouraging her to pursue her passions with further education. Dr. Davani went on to attend the University of Maryland, graduating with a Bachelor's in Biology in 2008. There, she was a member of Alpha Chi Sigma, a Chemistry Fraternity, serving as President from 2007-2008. She also worked as a research intern in the Department of Animal and Avian Sciences. In addition to her studies and extracurricular involvement, Dr. Davani received the National Institutes of Health, Intramural Research Training Award for a 2-year post-baccalaureate fellowship.
After graduating from University of Maryland, Dr. Davani sought to obtain her doctorate in veterinary medicine at the University of Pennsylvania, attending from 2010 to 2014. Graduating in 2014 as the Vice President of her class, Dr. Davani showed great promise in the field of veterinary medicine. She was awarded certification by the National Veterinary Business Management Association, obtained a Dentistry CE Certificate, and was recognized by Animal Dental Training Center in Baltimore. Pennsylvania.
Away from her office life, Dr. Davani enjoys going to concerts, hiking, gardening, and playing video games. She has two cats, both of whom were adopted from shelters, one orange tabby cat named Butternut, and one grey DSH cat named Haze.